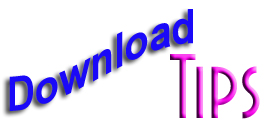 Downloading to an iPad:
iPad Downloads: Apple has designed the iPad so that it can only download files from their iTunes Store. iPads don't have the ability to download from any website other than the iTunes Store, and because they don't have a USB connector, transferring files to an iPad can only be accomplished via syncing the iPad to another computer's iTunes folder.
And BTW, we have contacted iTunes to determine if we can sell our downloads through the iTunes store..... answer: no. iTunes.com is only interested in doing business with companies that can upload a minimum of 100 video titles at one time. Since we have less than 30 titles to upload, we don't qualify to sell our videos on iTunes.
Fortunately, there are two different methods to get around this:
STREAMING: You can view our videos by streaming them to your iPad. Just click on the link from your iPad screen and instead of downloading the video, after a few seconds of buffering, the video will begin to play. You can stream your video as often as you like; just click on the link and enter the password each time and your iPad will stream the video. Your link and password will not expire.
DOWNLOAD: To actually download one of our video files for your iPad, you must first download it to your computer. That computer can be a Mac or a PC - desktop or laptop. After downloading is finished, you then move the resultant m4v file to your iTunes folder on that computer and then sync your iPad to your iTunes folder and the video will be transferred to and available for viewing on your iPad.
Either way, you'll love viewing our 720p High Def Virtual Experience Videos on your iPad!
We recommend trying the FREE SAMPLE DOWNLOAD to see how the streaming & download process works - it will only take a few minutes.
If you have any unanswered questions regarding downloading our videos, please click here to contact us.
Copyright 2015 VITA Digital Productions - All Rights Reserved